Affected by the continuing impact of COVID-19, more and more physical business owners start to launch their first e-commerce stores on e-commerce platforms or marketplaces. Among them, Amazon has attracted the attention of many sellers by its 40% market share in all e-commerce markets. Compared to Shopify or other self-run e-commerce sites, with Amazon, you're standing on the shoulders of a giant, and it is easy to take advantage of all the built-in traffic.
Amazon is a marketplace filled with millions of people to purchase items. You can acquire new customers on Amazon constantly. It is really an awesome platform to start an online business. But to make it successful, the most essential thing is choosing the right business model.
If you are not sure what kind of Amazon business model is better for you to start in 2021, you may need this article to learn more about the three types of Amazon business: Amazon Dropshipping, Amazon FBA, and Amazon FBM.
What is Amazon Dropshipping?
Amazon dropshipping is a business model that you list and sell products on amazon without inventory or delivering products to your customers. It is the same as the classic dropshipping model. First, you need to find the right product to sell, then you need to find dropshipping suppliers to provide products for you. After identifying the supplier, you can list your products on Amazon and begin promoting them. Once a customer places an order with you on Amazon, you need to forward the order information to the supplier and pay for the product and shipping cost. Then the supplier will ship and deliver the product to the customer directly.
According to the Amazon Drop Shipping Policy, you must always:
•

Have an agreement with your supplier that they will identify you (and no one else) as the seller of the record of your products on all packing slips, invoices, external packaging, and other information.
•
Remove any packing slips, invoices, external packaging, or other information identifying a third-party dropshipper before shipping the order.
•

Be responsible for accepting and processing customer returns of your products.
•
Comply with all other terms of your seller agreement and applicable Amazon policies.
The Pros and Cons of Amazon Dropshipping
In order to make sure whether it is the right option for you, you have to measure the pros and cons of dropshipping on Amazon.
PROS

CONS

More Free Traffic: Amazon has the largest market share with constant customers.

Less Investment Time: Dropshipping can save you a lot of time because you don't need to package and ship the products yourself. This leaves you time to focus on your product marketing.

Low Upfront Cost: You don't need to store the products yourself or manage your warehouse so that you can save the inventory fee and management cost.

Low Risk: You can sell a wide variety of categories without breaking the bank and it is flexible for you to start or stop selling a product because you don't need to worry about the loss caused by the inventory backlog.

Cutthroat Competition: Since dropshipping is easy to start, there will be a lot of sellers trying to sell the same products as you. You can only pray that you can have the highest sales at the lowest price.

Poor Control On Products And Supply Chain: The product quality, packaging, and delivery time depend on the supplier so it is hard to control them correctly on your behalf.

Difficult After-sales Service: As the customers will only have your contact details, you will be responsible for any after-sales issues such as non-delivery or damaged products. And your supplier may not support refunds or reshipment.

Multi Rules: Amazon has many rules and guidelines on dropshipping, and you must ensure that you adhere to these rules or risk being penalized.
What is Amazon FBA?
Amazon FBA means "Fulfilled By Amazon". Before selling, You need to prepare your products for safe and secure transportation to the Amazon warehouse. And then ship your products printed with Amazon shipment ID labels to Amazon warehouse, and store your products there until you have store orders. Once you get an order for the product on Amazon, they will pack, ship, and deliver the product to your customer from the Amazon FBA warehouse. So it requires some upfront investment to start Amazon FBA because you have to pay for the inventory fees and fulfillment fees before you make a profit.
The Pros and Cons of Amazon FBA
Compared to Amazon dropshipping, fulfilled by Amazon seems more reliable than fulfilled by a third-party supplier because you can control the product quality and packaging yourself, and the delivery time is fast with FBA. But is FBA better than Amazon dropshipping? We have to evaluate it from its pros and cons.
PROS

CONS

Fast Delivery: When you list products for FBA, they are eligible for Amazon Prime free two-day shipping and free shipping. You'll have to pay for premium shipping rates to do that because it's included in the service.

Cost-effective: You are going to spend less on your shipping cost through the Amazon FBA program. Even if you have to pay inventory fees and fulfillment fees, it's still cheaper than managing shipping and fulfillment yourself.

7/24 Customer Support: Amazon FBA customer service is provided at no extra charge for managing customer inquires, refunds, and returns for FBA orders.

FBA Return: Amazon will deal with the refunds and returns for orders fulfilled by Amazon. But the returns processing fees are required.

Multi-Channel Fulfillment: The Amazon MCF service allows you to sell on other platforms (such as eBay), but is fulfilled by Amazon.

High Upfront Cost: FBA is indeed a good choice for Amazon sellers, but it includes a variety of service fees. It's not friendly for those who are trying to get started. You can use FBA Revenue Calculator to estimate the FBA cost for a new product.

High Risk: You have to ensure the inventory of each product in the FBA warehouse is sufficient. So when your sales drop suddenly, It's hard to handle the inventory. You can choose to pay for long-term storage or have Amazon return or dispose of your inventory for a per-item fee. What's more, there would be more returns because customers can easily ask for returns due to the FBA return policy.

Product Restrictions: Amazon has plenty of policies on products selling through FBA. You need to be very clear about which products are restricted.

FBA Payment: Since you are going to pay various fees for FBA, you have to keep a sufficient balance, and Amazon doesn't allow payment extension.
What is Amazon FBM?
Amazon FBM is the initial option to start an Amazon business. It stands for "Fulfilled By Merchant". That means you keep inventories in your own warehouse and when you get orders on Amazon, you will take the responsibility to send the products to your customers. When you fulfill orders yourself, Amazon will charge shipping rates based on the product category and shipping method selected by the customer, and then passes the amount on to you in the form of a shipping credit. The setting of shipping rates depends on different selling plans, which will be introduced later.
The Pros and Cons of Amazon FBM
The whole selling on Amazon process is handled by yourself, which requires a lot of energy and time. But It's more flexible in terms of cost and inventory for new sellers. This business model also has its advantages and disadvantages, depending on different aspects.
PROS

CONS

Low Pressure: FBM can reduce the service fees paid to Amazon and the pressure on funds. New sellers can easily start.

Better Control: You could better control the product quality, the inventory, and the delivery process.

Low Risk: You can make reasonable adjustments at any time according to Amazon's policies to reduce losses.

Brand-Friendly: You can test products more freely and directly provide services to your customers on behalf of your own brand. It's friendly for building your own brand.

Time-Consuming: You need to spend a certain amount of time on delivery and customer service, as well as manpower to deal with these trivial things.

High Shipping Cost: Since you will ship the products yourself, you don't have many options for shipping and the cost could be high for cross-border packages. And you may cause customer loss due to long shipping times.

Competitive: Compared with FBA sellers, It is more difficult for you to win the "buy box" opportunity.
Costs of Selling on Amazon
Selling Plan Fees
Amazon does takes you a lot of fees and one of the fees it takes is an overall selling plan fee just to allow you to sell on Amazon. You can have an individual plan or a professional plan as an Amazon seller. The professional plan is $39.99 per month. But the individual plan is $0.99 per item sold, which can really end up costing you a lot of money. So the professional plan would be better for long-term consideration.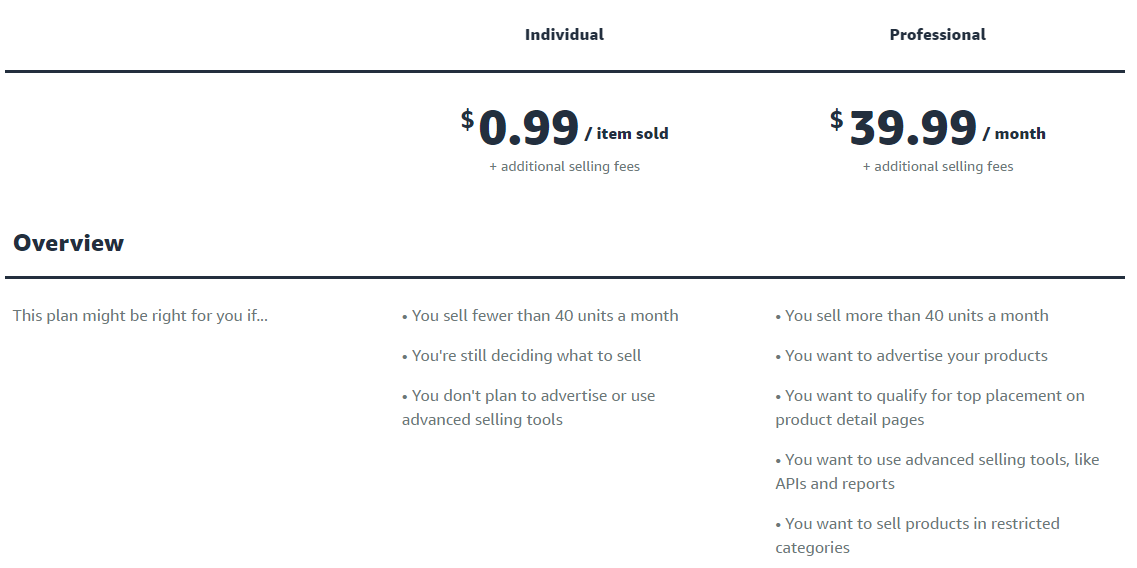 Referral Fees
In addition to the selling plan fees, sellers need to pay Amazon a percentage of the total price for every item sold. It means that you need to pay Amazon or somebody else as a referral fee for bringing somebody to your products. The referral fees include item price, shipping cost, and any gift-wrapping charges, or a minimum amount, whichever is greater.
Amazon is one of the most powerful search engines in the world, so you are going to pay a referral fee for the traffic to your products.
Fulfillment Fees
Fulfillment fees depend on whether you plan to ship products yourself, or use Fulfillment by Amazon (FBA) to handle your logistics and offer Prime shipping for your products.
FBA Fees
include inventory storage fees and fulfillment fees. They are charged for all items stored in the Amazon fulfillment center. If something goes wrong with your inventory, you have to pay extra fees for handling the problem.
For example, you need to pay removal order fees or long-term storage fees for the inventory backlog. When your inventory is not properly prepared, then unplanned services fees are required. Even returns require processing fees.
FBM Fees
are charged according to different selling plans. Sellers with the professional plan are able to set their own shipping rates, and sellers with the individual plan can only use shipping rates set by Amazon.
For sellers with the individual plan, there's one thing you need to pay attention to. Since Amazon returns the shipping credit based on the shipping rate, you need to control the shipping cost less than Amazon's set shipping rate to make sure you'll make a profit.
There are other fees for additional selling expands or optional programs that need to be considered such as rental book service fees, advertising fees, and premium account services fees.
Conclusion
Different sellers have different choices for an Amazon business. In summary, Amazon dropshipping and Amazon FBM are more suitable for those who are going to start and have no idea what to sell. You can test different products from different suppliers with low upfront costs and risks. Amazon dropshipping is a good choice for selling worldwide, but FBM is more suitable for local sales because shipping worldwide from your own warehouse is costly for you who are just starting out.
Whether it is Amazon dropshipping or Amazon FBM, you'll need dropshipping suppliers and wholesale suppliers. It would be better if you can find a dropshipping agent like
SourcinBox
to help you source products from manufacturers or suppliers at low prices, check the product quality, pack and ship the product to your customers on your behalf. It is more efficient and cost-effective than sourcing products and fulfills the orders yourself.
But if you have space for inventory and enough time, you can choose to fulfill by yourself. China is a good place for wholesaling because there are massive cheap products and reliable wholesale suppliers. SourcinBox also provides
wholesale
services for Amazon sellers.
Amazon FBA sellers need to have enough funds and the ability to withstand risks. So Amazon FBA is more suitable for those who have good sales or have their own brands and want to optimize their business through FBA.
FBA does not conflict with FBM or dropshipping, a more secure choice is to start your business through FBM or dropshipping, obtain a stable income, and then optimize your business through FBA.